How to Start Blogging Career with UserCV.com
Have you wasted your time starting your Blog using Blogspot, Tumblr or WordPress? Try Blogging with UserCV.com Platform and get free Traffic, Exposure & highest ROI.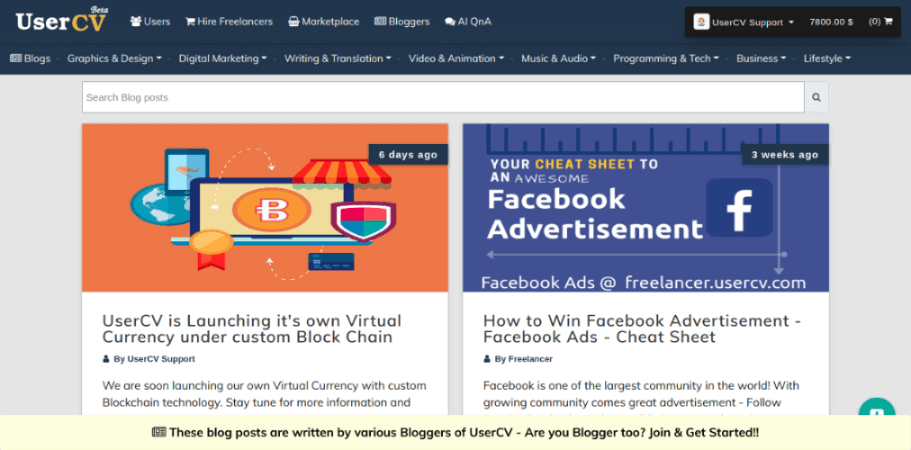 Get It Done With UserCV. Why?
You must be thinking, why to start your blogging career by choosing the FreelancerCV.com platform over WordPress or other blogging platforms! Read below – Why?
Free Traffic & Promotion
UserCV.com re-publish your blogs at the FreelancerCV blogging network, where thousands of visitors, readers come read your post and content!
Zero Cost - Free Hosting
FreelancerCV.com doesn't charge you anything for starting your own blogging career, this is a free open platform like Blogspot!
Highest Return on Investment
FreelancerCV.com offers the highest Return on your Investment for your content writing skills by exposing your blogs & store to millions.
Free, Easy & Highest ROI
FreelancerCV.com has an extremely easy and user-friendly content management system to manage your posts and content for your blogs. You can add, edit, delete, update, publish or draft it for future publishing.
FreelancerCV.com also promotes your blog posts in the blogging community, where various readers or visitors get a chance to buy or hire your store's digital items and services respectively apart from google AdSense monetization.
Build a Stronger Relationship with Your Customer & Visitors
UserCV.com is not only a Personal CV-Resume website builder or a Blogging Platform. UserCV.com is Platform as a Service Personal & Professional Social Network for you.
You can also offer your Service right from your profile where the buyer can hire you for your skills, or, Sell your Readymade items to the visitor or buyer directly from your profile. 
Managing Your Business Doesn't Have to Be Hard.
Tired of Managing multiple Platforms for your Personal Website, Blogging, getting Hired or Selling Readymade digital items? No More – UserCV is One for all your need!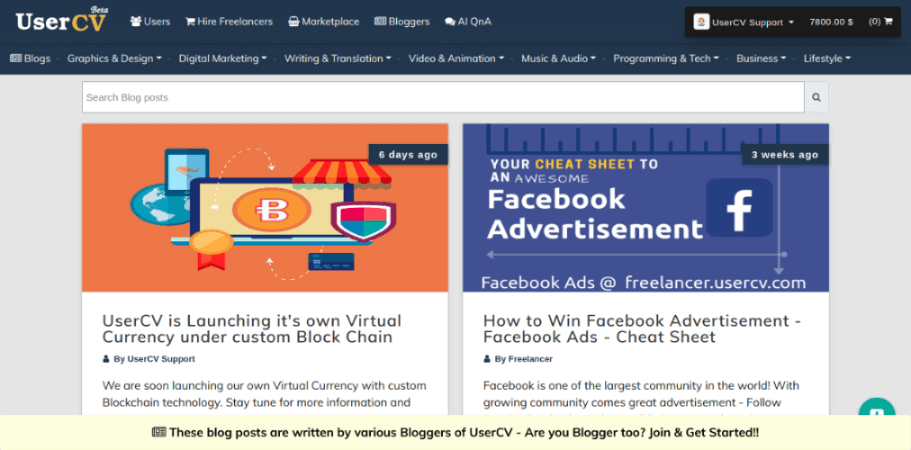 "UserCV.com solves my biggest pain point of managing various platforms for marketing my skills. It has everything in one place, my business card, blog, work, skills everything"
– Abhilasha Tiwari